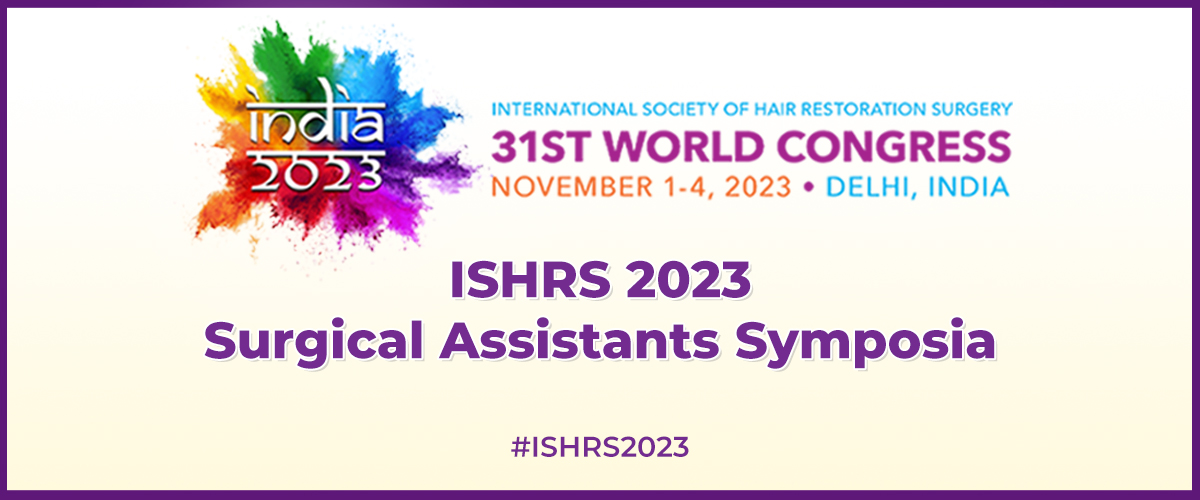 112: Surgical Assistants Symposium
Problems and Solutions in FUE and Patient Care
Date: Thursday/November 2, 2023
Time: 1:15PM-2:15PM
312: Surgical Assistants Symposium
The Moving Parts of Implanting and Team Dynamics
Date: Saturday/November 4, 2023
Time: 12:45PM-1:45PM
Chair: Aileen R. Ullrich (Dr. S. Gabel) | USA
Co-Chair: Christine Turner (Dr. R. Knudsen) | Australia
We invite you to join us during the live Surgical Assistants Symposia at this year's World Congress in Delhi, India. If you have not attended these meetings in the past, this is going to be an exceptional opportunity to learn from and share with your colleagues.
This program is anticipated to be an intimate event – ideal for a dynamic exchange of knowledge as we share our combined wealth of experience. For assistants and physicians alike, it is the practical application of how others employ the tools, techniques, and principles of hair restoration in their day-to-day practice that you will find immense value in. This program has been designed to provide you with these invaluable insights.
Physicians, we encourage you and your assistants to join us, as we are confident that you will return to the clinic with a renewed team mindset toward improvement.
We can't wait to see you all in Delhi!
Program Objectives
Gain a better understanding of potential problems during FUE graft harvesting.
Identify the different types of damage to FUE grafts.
Become familiar with a variety of implanters.
Learn techniques for loading grafts into implanters.
Observe methods for assembling, dismantling, and cleaning implanters.
Improve communication skills.
Obtain practical advice from experienced peers.
Develop supportive relationships with colleagues.